Tente de gagner un TARDIS taille réelle!
Découverte intéressante sur twitter: le site genuitec.com vous propose de tenter de gagner un
TARDIS
grandeur réelle (vous savez, la cabine bleue de
Doctor Who
, qui voyage à travers le temps et l'espace…), simplement en vous inscrivant via le lien suivant:
https://www.genuitec.com/raffle/
(et si vous le gagnez mais n'en voulez pas, vous pourrez demander un bon d'achat équivalent sur amazon).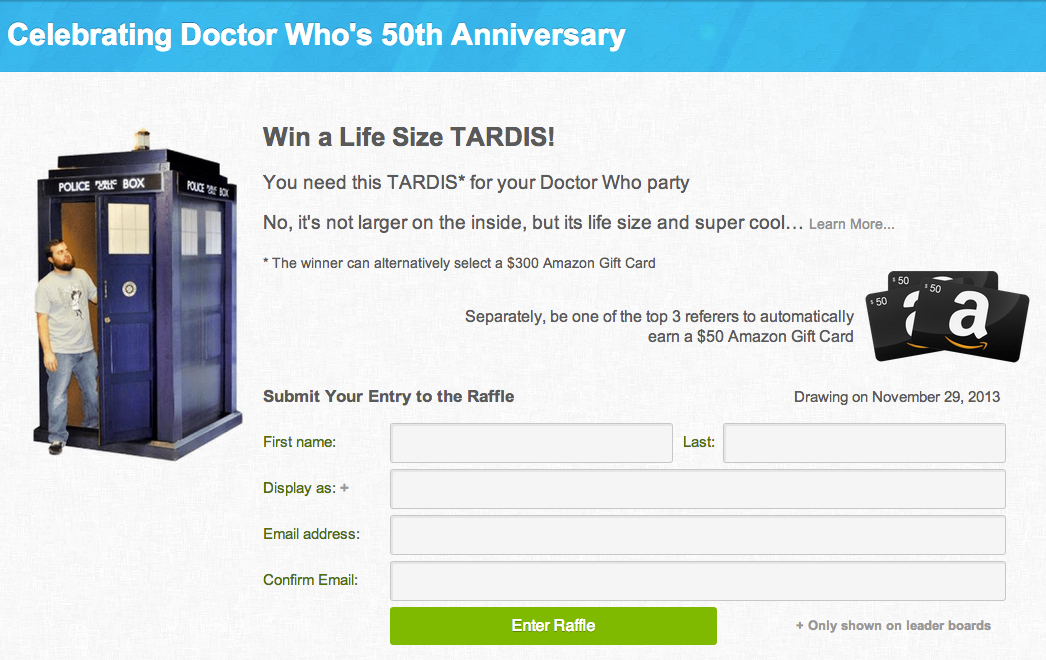 Le règlement est clair (mais en anglais):
"Participation in the raffle does not require any purchase. You can enter the raffle once from your email address using this entry form. Additional raffle entries can be earned by referring others to a URL for the raffle. Once you submit to enter the raffle, you will be provided your personal URL which you can share by Twitter, LinkedIn, Google+, Facebook, or any other way you deam fit."
Le principe de tombola est celui d'une tombola classique, à ceci près que chaque inscription que vous obtiendrez via le lien fourni par genuitec (après soumission du formulaire) vous apportera une chance supplémentaire de gagner :) Somme toute, une mécanique virale assez classique, mais terriblement efficace. Mais attention…
"This raffle ends November 29th at noon US/Central."
: vous n'avez donc que jusqu'au 29 novembre pour participer! Tu as participé? N'hésite pas à publier ton lien parrainage en commentaire!