Du Thumbail-Microblogging avec Asaph
Asaph est une solution open source, développée en php par
http://www.phoboslab.org
/, qui vous permettra de diffuser rapidement les sites que vous aimez. En bookmarkant directement depuis votre navigateur, vous importerez vos coups-coeur sur un "micro-blog", au design certes "standard". Mais puisque tout est modifiable (par le code), rien n'empêche de vous faire plaisir et de customiser le tout.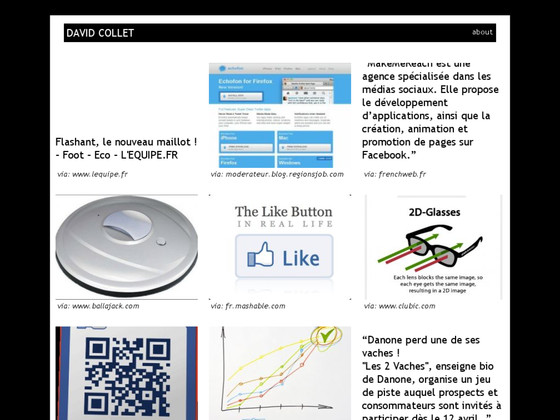 C'est
@clicali
qui m'a fait découvrir ce système, qu'il utilise pour son blog
http://www.davidcollet.com/
. Je n'ai pas suffisamment utiliser le système pour pouvoir dire s'il est performant niveau SEO, ni même s'il est suffisamment sécurisé pour être déployé "tranquillement". Sur la homepage du projet, on notera (admirera ?) la phrase :
To post entries to your blog, you'll need a good browser (read: anything not Internet Explorer).
Un projet suivre ici :
http://www.phoboslab.org/projects/asaph
Un source à télécharger ici :
http://www.phoboslab.org/files/asaph/asaph-v1.0.zip (50k)
Qui parmi vous utilise ce système ?